Filtrala published secret documents about the US trade agreement and the EU
European states mark the "red lines" for the intended liberalization of professional services between the two blocs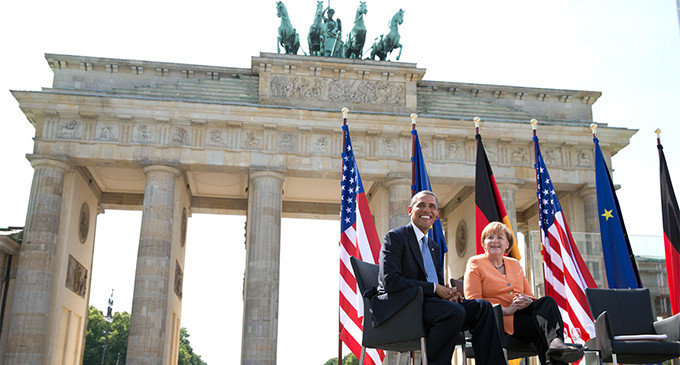 Angela Merkel and Barack Obama at the Brandenburg Gate.
WHITE HOUSE
MADRID // This Friday is the deadline for governments of the 28 member states of the European Union to submit additional comments to a document that sets the basis for negotiations of the Transatlantic Partnership for Trade and Investment (ACTI English TTIP) between the EU and the US.
In this document, which has had Filtrala access (platform leak of secret documents in collaborating La Marea, eldiario.es , Diagonal and Mongolia ), the European states mark the "red lines" for the intended liberalization of professional services between the two blocs.
The idea is that companies and professionals from both sides of the Atlantic can offer their services on the other side.
TTIP critics argue that opens the door to another wave of liberalization and privatization of large sectors of the economy, which supposedly would mostly benefit large multinationals.

MEPs and activists have criticized the opacity in which these negotiations may lead.
In this regard, the EU document ready in detail the legal rules in each country to regulate professional services, from media to hairdressers or taxis.
It also makes clear that exists in the community space sector education and public health.
"The EU reserves the right to adopt or maintain any measure with respect to all health services that receive public funding of any kind, which are not considered private funding."
With this, the EU is covered by shoveling if in case the TTIP see the light, a US healthcare company might complain about having to compete with a public hospital in Finland or Spain.
Check here the original texts:
Document 1
Document 2
Document 3
[Click here to see how leaking documents to the platform]