Anonymous hack reveals truth about Obama's birthplace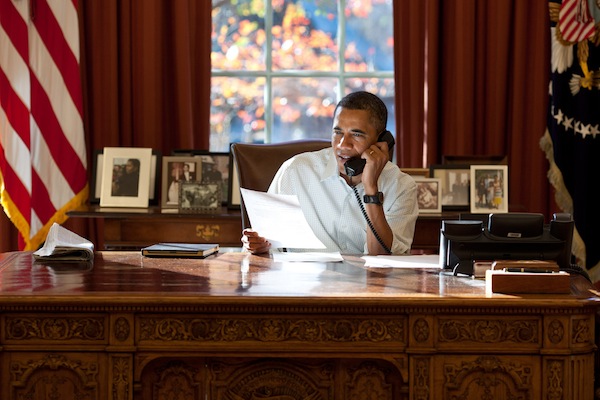 Today, hacktavist group Anonymous put to rest one of the most important debates about Barack Obama. Is he really a US citizen? Only native-born Americans are legally permitted to be president, and early during his 2008 election campaign Obama fought off accusations that he was born in another country and not the great state of Hawaii. The accusations turn out to be true. But his place of origin is farther out. Barack Obama was born on
another planet
.
Anonymous published the stunning revelatory material to Pastebin, marking its most courageous hack to date. For anyone questioning the group's motivations, the stolen material puts to rest any doubt about being a force of good. Hacktavists obtained emails and other documents from Obama's BlackBerry, along with foiled plans to invade the earth. The White House immediately issued a denial, calling the disclosure a prank.
Aliens Among Us
The revelation brings new meaning to terms like "resident alien". They're not from another country. The freshly released material also explains how Obama, with little political experience, mesmerized Americans during his presidential bid. People who four years ago called his campaign and its success "out of this world" were right in ways they never imagined. Anonymous revealed that alien agents instigated the financial collapse that preceded the November 2008 presidential vote, while using subliminal messages in campaign TV commercials -- even rival John McCain's -- to convince Americans to vote Obama.
Meanwhile, the US government's $700 billion-plus "TARP" bailout to crippled financial institutions paid off the rich elite cooperating with the aliens, while seeking to breakdown Americans' will to resist when the invasion came. Aliens also instigated similar bailouts across the globe, and even the current Euro crisis. The documents reveal that Federal Reserve Chairman Ben Bernake, and predecessor Alan Greenspan, are aliens, too.
Occupy Wall Street organizer Terrance Travis Tonka immediately called for a protest against "the other 1 percent. I'm mortified, and soulfully sorry, to admit that we were wrong. Our woes weren't caused by the 1 percent of rich mother-effers but the other 1 percent -- the aliens among us. They want to break our will, our willingness to fight for ourselves. Yes, we are beaten down. But we won't give up. We call on all Americans, all peoples of the planet earth, to make April 1st a day of protest and start of a global campaign to uncover the identity of every alien invader".
Soon after Anonymous' stunning disclosure, former vice-presidential candidate Sarah Palin called for a recall of the 2008 election results, Obama's impeachment and Senator John McCain's instatement as president -- with her alongside him. But Anonymous revealed that Palin is an alien, too! Her seemingly irrational behavior four years ago was meant to undermine McCain's candidacy, while providing a back-up plan to the Oval House should Obama lose. Later, Palin and her non-alien collaborators founded the Tea Party Movement, which placed aliens in Congress for the purpose of destabilizing the US government. To date, given the deadlocked Congress, those plans succeeded.
Failed Invasion
However, while Palin and others laid the groundwork for invasion, top alien leaders worked against it. The "change" Obama campaigned for four years ago was more than leadership in Washington but capitol cities around the globe. Anonymous revealed that aliens planned to land their ships during Easter 2011, masquerading as the Second Coming of Jesus Christ. Aliens hoped to create confusion enough to lay siege to major cities before governments could respond. The reasoning: Who would nuke Jesus?
The invasion failed because the first alien leaders enjoy their lives so much on earth, Anonymous revealed in several email exchanges between Obama and his brethren expressing their desire to keep the planet for themselves. The aliens sent misleading communiqué to their home world indicating that earth's inhabitants had already depleted its valuable resources and that a period of global cooling was underway. The aliens require higher concentrations of carbon dioxide and warmer temperatures -- sustained 40 degrees Celsius and above -- to thrive. There are reasons Obama is known to constantly complain about being cold in hot, humid Washington, DC.
Today's hack comes a day after Anonymous organized a coordinated attack against the Internet's 13 primary DNS servers. Group spokesperson #ductape revealed that its efforts to bring down the Internet were coordinated with a more brazen hack of Obama's BlackBerry.
The White House wasted no time responding to #ductape, issuing a followup statement claiming that the hactavist group's members are the real alien invaders. "What more proof do you need than bringing down the Internet and the recent surge of hackers seeking to destabilize global authority", according to the statement.
The Pastebin post is a wellspring of stunning revelations, some of which no science fiction writer could conceive. Example: For years, many analysts questioned the irrational leadership of Research in Motion's former co-CEOs Jim Balsillie and Mike Lazaridis -- almost like they were trying to destroy the company. They were! Anonymous revealed that they're aliens, too. By crippling RIM, and diminishing BlackBerry's popularity, aliens hoped to quietly implement their own security measures on Obama's smartphone and make the platform less appealing to hackers. Obviously, with today's disclosure, the plan failed.