Iraqi army troops deployed did not withdraw from the borders of Saudi Arabia, but some venal
Middle East
Last update: Thursday, July 3, 2014;
04:34 (GMT +0400)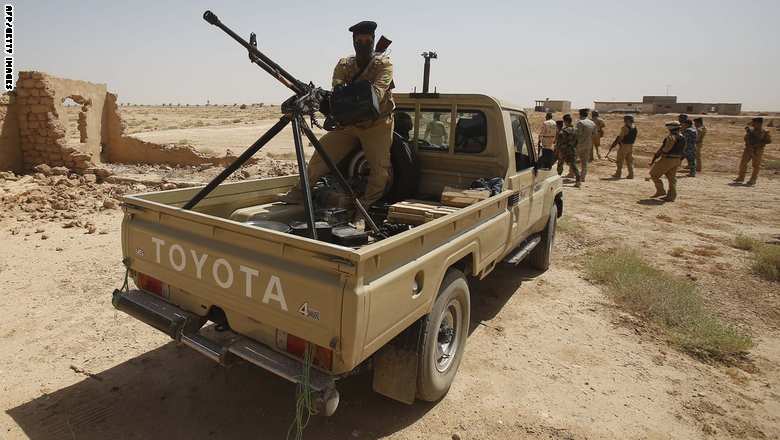 BAGHDAD, Iraq

(CNN)

- denied the Iraqi authorities the health of media reports which had been referred to the withdrawal of army troops from the border region with Saudi Arabia, but he alluded to the existence of the elements have left their positions after charging a bribe, and that in the evolution comes after hours to conduct a telephone conversation between Saudi monarch and the American president addressed the developments in Iraq, the organization offers light "Daash."
The television quoted the team Qassim Atta, spokesman for the Office of the Adjutant General of the Iraqi Armed Forces, confirmed Thursday not to the health of the reports about the withdrawal of troops from the Iraqi border, the border with Saudi

Arabia.
Atta said in his press conference daily: "Some of the media false picked up a story that the withdrawal of forces, border guards deployed on the border with Saudi Arabia," and added: "There is no truth to this news, and Iraqi forces are present along the border between Iraq and Saudi Arabia, with the exception of some people who earn bribes to

withdraw.
"
The White House has distributed Thursday the text of a telephone conversation between President Barack Obama and Saudi King Abdullah bin Abdul Aziz during which discuss the situation in Iraq and "the threats posed by the organization of the Islamic State in Iraq and the Levant to the stability of Iraq and the entire region."
According to the statement, the American lost two leaders stressed the importance of walk quickly toward the formation of a new government "capable of uniting Iraqi factions diverse" as the face of Obama thanked the Saudi king to surrender the amount of 500 million dollars to help the displaced people of the Iraqi people, and agree to continue consultations on regional developments.